The SecureDocs team is committed to supporting our customers by providing virtual data room solutions with features designed to simplify the deal process and allow users to securely store and share sensitive information. By providing a product that is intuitive, affordable, and backed by unparalleled customer support, SecureDocs makes it easy for businesses to get deals done.
That's why we're proud to announce that SecureDocs has recently been named a top virtual data room solution by some of the most respected and trusted software review sites, thanks to the feedback from customers who count on our software to help facilitate their most important financial events, including mergers and acquisitions, fundraising, and IPOs.
Below is more information about the latest software review site reports that show why SecureDocs is one of the leading virtual data room solutions.
Gartner Digital Markets
Gartner Digital Markets is made up of some of the leading B2B software search sites, including Capterra and Software Advice. Gartner's Competitive Comparison reports show how a particular solution is rated against its competitors across a variety of categories, including functionality, ease of use, value for the money, customer support, and overall. Based on end-user reviews in the Gartner reports published April 1, 2020, SecureDocs has been rated the best overall virtual data room product on both Capterra and Software Advice.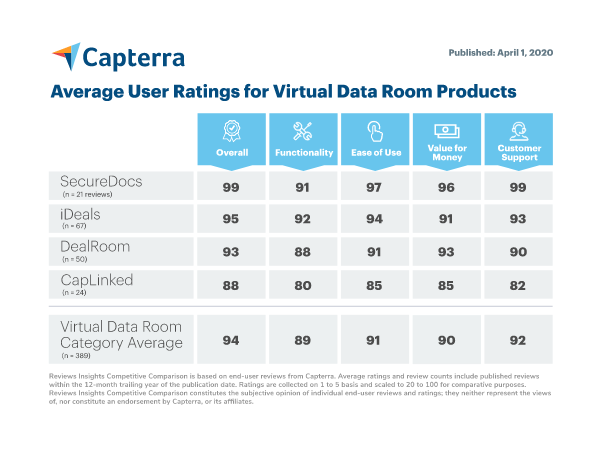 Why Users Choose SecureDocs
Here's a look at some of the reasons SecureDocs earned the top overall score in the latest reports from Software Advice and Capterra.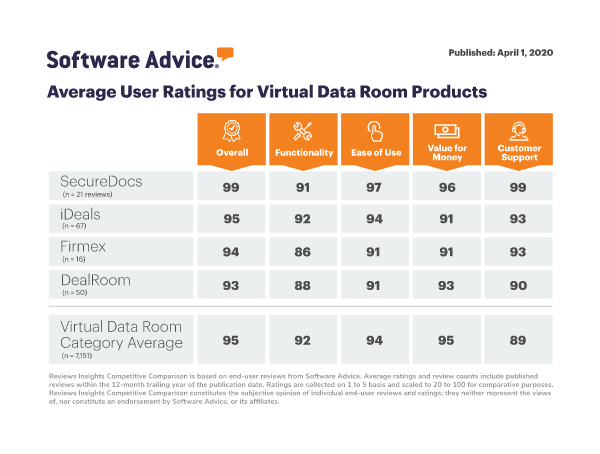 Functionality
SecureDocs is built with deals in mind, and offers the functionality needed to successfully navigate the complex deal process. To help you gauge buyer interest, customizable dashboards and audit log features allow you to quickly see who's looking at your documents. Activity alerts keep you updated when specific actions are taken in your data room. And the built-in electronic signature feature lets you easily sign documents without having to worry about APIs or integrations. SecureDocs accounts are also protected by strict security measures including permission-based user roles, multi-factor authentication, encryption of data, both in transit and at rest, and dynamic watermarks.
Ease of Use
The intuitive design and simplicity of the software is one the primary reasons customers turn to SecureDocs to help with any significant financial activity that requires sensitive information to be shared with other parties. Deals typically require businesses to act quickly, and SecureDocs customers can set-up a virtual data room immediately without ever having to talk to a sales person. Plus, the drag and drop feature allows you to quickly upload and organize folders and documents to get deal ready right away.
Value for Money
SecureDocs is known for its transparent pricing plans, which all include unlimited users, unlimited data storage, and unlimited training and support. The built-in electronic signature feature is also included with every account.
Customer Support
All SecureDocs customers have access to 24/7 support, as well as unlimited training to help you get up to speed or learn more about specific features within your virtual data room.
Ready for a first-hand look at why users have ranked SecureDocs as the top virtual data room solution? Start your full-feature free trial today.