Customers Once Again Rank SecureDocs as a Top VDR
At SecureDocs, our clients always come first, and we're committed to providing a solution that meets their needs above all else. With a virtual data room solution that is simple, secure, affordable, and backed with unparalleled support, our customers can focus solely on the deal-making process.
After using traditional virtual data rooms earlier in their careers, the founders of SecureDocs knew they could make something better. The goal was to create a product that would allow users to store and share their sensitive documents in a data room that was both secure and simple to use. And thus, SecureDocs was born.
Nearly a decade later, the SecureDocs team has remained dedicated to the simplicity and usability of our virtual data room solution. We welcome feedback from our customers and continue to innovate and improve our product to better meet their needs.
And today, we are proud to share that SecureDocs has again been ranked as a top Virtual Data Room on software review sites Capterra, G2, and more.
Gartner Digital Markets
Gartner Digital Markets includes some of the top B2B software search sites, including Capterra and Software Advice. Their bi-annual Competitive Comparison reports are based on user reviews and showcase how a software solution is rated against its competitors across specific categories, including functionality, ease of use, value for money, customer support, and overall category.
SecureDocs is rated as the best overall virtual data room product, with a score of 98 in the most recently published Competitive Comparison reports on both Capterra and Software Advice.
SecureDocs also received a 98 in the Ease of Use category on both review sites, and earned a perfect score of 100 in the Functionality and Customer Support categories.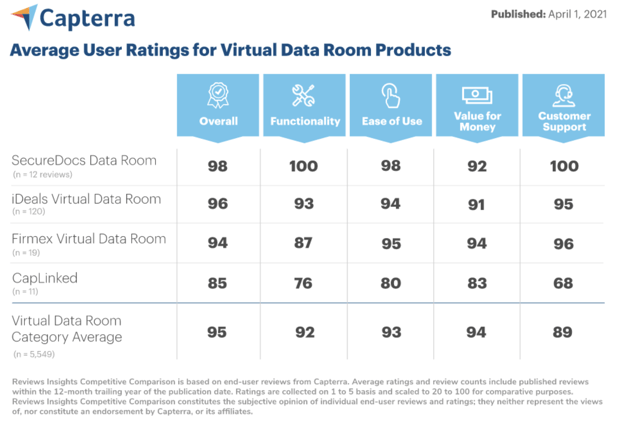 We built SecureDocs with the user in mind. These scores signify our commitment to providing a solution that is simple, secure, can be set up in minutes, and backed with exceptional customer support.
Check out our complete profiles on Capterra and Software Advice to hear from our customers on how SecureDocs has helped their companies succeed.
G2
G2, the world's largest tech marketplace, collects real-time reviews and publishes quarterly reports highlighting top software within specific categories. In their recent reports, SecureDocs earned the recognition of 2021 High Performer in the Virtual Data Room category for both Spring and Summer.
Customers who reviewed SecureDocs on G2 have given us a rating of 9.3 out of 10 for Ease of Use, a 9.7 out of 10 for Ease of Setup, and a 9.4 out of 10 for Quality of Support.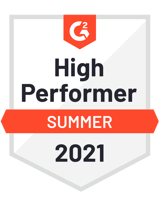 At SecureDocs, we know opportunities can arise quickly, and unlike other virtual data rooms, our solution is instantly usable with a 10-minute self-setup. This allows users to be deal-ready in minutes. And, if you need help or have a question, our industry-leading customer support team is always on call.
It's great to see that we are helping our customers achieve significant results and are honored to receive these high scores and to also be recognized as a High Performer on G2.
To see the full SecureDocs profile on G2, click here.
We Owe it to All Our Customers!
The honest feedback from our customers over the years has helped SecureDocs to innovate and grow to what it is today. Thank you to those who took the time to share their experience using our software.
We're honored to be selected as the data room of choice for so many, and are committed to providing exceptional customer service, and making SecureDocs the best it can be for our customers.
If you would like to learn more about SecureDocs, schedule a demo today with one of our product experts by clicking here.